Welcome to Cogan House Township
IMPORTANT
Cogan House Festival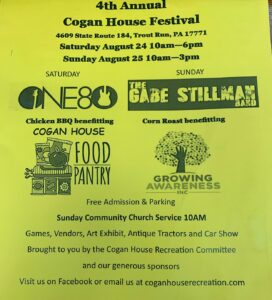 SPCA
Saturday, August 17, 2019 is International Homeless Animals Day. The Lycoming County SPCA is having a "Healthy Homeless Pets Drive" July 17 – August 17, 2019, collecting money  to help the sick & elderly animals in the shelter. On August 17 they will have a half-priced adoption event to end their campaign.
http://www.lycomingspca.org/donate/healthyhomelesspets/
Recycling News
Our Township recycling center is in danger of being closed unless residents start following the rules regarding the proper disposal of recyclables.
Plastic bags are not allowed to be thrown in with the rest of the recyclables.
The bags clog the processing machines.
The County will refuse to collect our recycling if there continues to be bags thrown in with the recyclables.
Only "1" and "2" labeled plastic may be recycled.